As political leaders release memoirs ahead of the next federal election, two Hill reporters' books on Prime Minister Justin Trudeau will also be hitting the bookstores.
The National Post's John Ivison and CBC's Aaron Wherry will release their books on the first four years of Mr. Trudeau's governance.
Mr. Ivison's Trudeau: The Education of a Prime Minister, published by Signal/McClelland & Stewart, looks at what makes Canada's 23rd prime minister tick.
The book finds, according to the publisher's press release, that Mr. Trudeau "has always been manipulative—good at understanding the feelings of others and playing on them," which has made him a successful politician, as he is able to understand the thoughts and sympathies of others, but his promise of nation transformation may be too lofty of an ambition and out of his reach.
Mr. Ivison has been with the Post since 2003, and has led its Ottawa bureau during the 42nd Parliament.
There will be a launch party for Mr. Ivison's book at the Métropolitain Brasserie Restaurant in Ottawa on Aug. 7 from 7 p.m. to 8:30 p.m. The book goes on sale on Aug. 13.
Mr. Wherry's book will chronicle the successes and shortcomings of the Trudeau government and will analyze how he has done so far on living up to his promises for Canada.
Promise and Peril: Justin Trudeau in Power will look at the rocky NAFTA renegotiations, the SNC-Lavalin affair, and his controversial vacation to the Aga Khan's private island, among other headlines-making events over his first four years as prime minister.
To provide "the most in-depth, inside examination" of Mr. Trudeau, Mr. Wherry interviewed cabinet ministers, Mr. Trudeau's advisers, as well as the prime minister himself.
Mr. Wherry has covered Parliament Hill for over a decade with CBC and Maclean's.
His book will be published by HarperCollins Publishers on Aug. 20.
Both books are 368 pages.
Jody Wilson-Raybould to publish memoir ahead of election
Once the election campaign really heats up in late September, former justice minister and attorney general Jody Wilson-Raybould will release a political memoir.
Ms. Wilson-Raybould was at the centre of the SNC-Lavalin affair, which led to the Liberals taking a nose dive in the public opinion polls. She was booted from the Liberal caucus on April 2 along with ally and fellow former cabinet minister Jane Philpott.
From Where I Stand: Rebuilding Indigenous Nations for a Stronger Canada will be released on Sept. 20, just over a month from the Oct. 21 anticipated election date.
A press release on the book does not mention the SNC-Lavalin affair.
Canada's first Indigenous justice minister will write about how Canada can overcome its system of colonialism through moving past denial of its treatment of Indigenous people and to recognize Indigenous rights, as well as to overhaul the Indian Act.
Ms. Wilson-Raybould—a former British Columbia regional chief—is one of two MPs along with Ms. Philpott who is running to be elected as an Independent.
The book is being published by the University of British Columbia Press.
Former Ontario cabinet minister David Caplan dies at 54
David Caplan, a former Ontario MPP and health minister, died on July 24. He was 54 years old.
Mr. Caplan was a Toronto-area MPP from 1997 to 2011 and was the Ontario health minister from 2007 to 2009 and infrastructure minister from 2003 to 2007 in the government of former premier Dalton McGuinty.
His death prompted heartfelt responses from both current and former provincial and federal politicians.
"[David Caplan] was kind man who dedicated his life to serving his community. David will be missed by so many," tweeted Prime Minister Justin Trudeau.
Former Ontario premier Bob Rae added: "David Caplan had superb political and interpersonal skills —learned from watching his wonderful parents, and honed as a councillor where partisanship mattered less than getting things done. He took these skills to Queen's Park and would have brought them to Ottawa."
"I'm sad to learn that David Caplan passed away. Too young," Ontario Premier Doug Ford wrote on Twitter.
Mr. Caplan is the son of former Liberal MP and Chrétien government cabinet minister Elinor Caplan. She served as an MP from 1997 to 2004, holding the posts of citizenship and immigration ministers, as well as national revenue minister. When she was an Ontario MPP, she held the positions of health minister and management board chair during the government of former Ontario premier David Peterson.
According to media reports, a sudden death investigation has been launched by the Toronto police at Mr. Caplan's home.
Edward Keenan succeeds Daniel Dale as Toronto Star's D.C. correspondent
Edward Keenan announced on July 26 that he will be The Toronto Star's next Washington, D.C., correspondent following the departure of Daniel Dale.
"I'm very excited to be an observer of this moment in that big and fascinating country," Mr. Keenan tweeted on July 26.
"Obviously, Daniel Dale made a big impression as the Star's most recent correspondent in DC. I have big shoes to fill. But Daniel and I don't really wear the same kind of footwear. We have different specialties as journalists," he wrote.
Following his coverage of the late and former Toronto mayor Rob Ford at Toronto City Hall for the Star, Mr. Dale gained international recognition for chronicling and fact-checking all the false claims made by U.S. President Donald Trump. By the time Mr. Dale left to join CNN, he had documented more than 5,000 false claims.
Since 2014, Mr. Keenan has been a senior editor and columnist with the Star. Previously he was the editor of Eye Weekly and Grid Magazine, as well as a contributor to Spacing.
Like Mr. Dale, Mr. Keenan is a veteran Toronto City Hall reporter, including during the Rob Ford years.
Mr. Keenan wrote Some Great Idea: Good Neighbourhoods, Crazy Politics, and the Invention of Toronto in 2013 about Toronto's uncertain identity following the 1998 amalgamation.
Separated at birth, eh?
nmoss@hilltimes.com
The Hill Times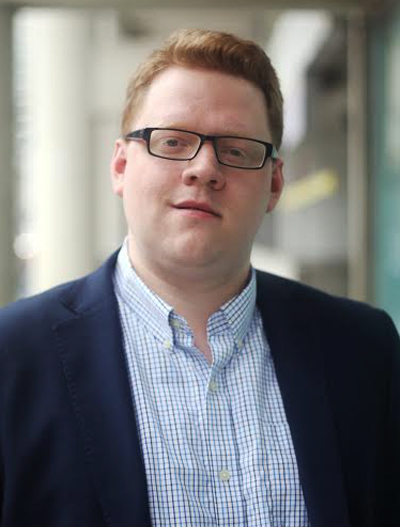 Neil Moss
Neil Moss is a reporter at The Hill Times covering federal politics, foreign policy, and defence. 
- nmoss@hilltimes.com