Canadian politicians and environmental experts say an Australian report warning of the "existential risk to civilization" posed by climate change if more action isn't taken in the next decade should cause the threat to be seen as a national security issue, and motivate a more serious policy response.
The 12-page report, released by the National Centre for Climate Restoration, an Australian think tank also known as Breakthrough, presents a 2050 scenario where policymakers fail to take adequate action on climate change. The authors, David Spratt and Ian Dunlop, don't present it as a definitive prediction for the future, but as a "plausible" scenario if nations fail to take more drastic action. The authors said they intend for their analysis to be used as a guide for making policy. Ultimately, they hope to show how climate change is a national security threat and should be treated with "a wartime level of response."
Green Party MP Paul Manly (Nanaimo-Ladysmith, B.C.) said climate change "is a severe security threat. We're going to see floods of climate refugees, we're going to see more wars over resources and growing insecurity," he said. Climate change "needs to be dealt with as an emergency and a security threat."
"If we can understand and perceive climate change to be a threat to national security and to our civilization as we know it, that should provide rationale to muster sufficient resources to actually address this challenge," said Keith Brooks, programs director at Environmental Defence, a Canadian environmental advocacy organization.
The Australian authors call the potential outcome a "hothouse scenario," defined as a temperature increase of 3°C over pre-industrial levels, but could also "exist at a temperature rise as low as 2°C [above those levels] possibly even lower." In this scenario, the climate would be driven to a "point-of-no-return, whereby further warming would become self-sustaining."
If the 3°C threshold were met by 2050, the point-of-no-return for the West Antarctic and Greenland Ice Sheets and the Amazon Rainforest would have already passed, the report says. Sea levels would have risen 0.5 metres, and would be on the path to rise by as many as three metres by 2100. More than 55 per cent of the world population would experience 20-plus day heatwaves that could kill the average human. Aridification would hit more than 30 per cent of the world's land surface, and severe desertification would decimate regions such as the south-western United States, southern Africa, the southern Mediterranean, and more. Environmental conditions alone could force more than two billion people to migrate. States' reaction to the new environmental reality could exacerbate the problems. International cooperation would cease, and wars over land and resources could ensue.
"The report is pointing to the magnitude of the problems perhaps overwhelming the capacities of governments to act," said NDP MP Randall Garrison (Esquimalt-Saanich-Sooke, B.C.). "If we delay, there's a distinct possibility of having not just failed states because of terrorism and more internal conflict, but having failed states because of climate change."
The 2015 Paris Agreement sought to keep the global average temperature from rising 2°C above pre-industrial levels, but also to strongly encourage signatories to take action that would limit the temperature increase to 1.5°C above pre-industrial levels. Currently, the global average temperature is about 1°C above pre-industrial levels.
Canada, however, is warming twice as fast as the global average. Canada's annual average temperature has increased by about 1.7°C since nationwide temperatures were first recorded in 1948, according to a report by Environment and Climate Change Canada. The Prairies and northern B.C. are the hardest-hit provinces. The Arctic is warming about three times as fast. Annual average temperatures in the North have increased by about 2.3°C. The report says the warming will continue at this pace and is "effectively irreversible."
"Climate change has already begun, so we will not say we can stop it," said NDP deputy leader Alexandre Boulerice (Rosemont-La Petite-Patrie, Que.). "But we can diminish the effect. If we only reach 1.5°C or 2°C, and not 4°C or 5°C, that's a huge difference in the lives of millions of people. So let's roll up our sleeves and get to work."
The House Of Commons passed a motion put forward by Environment and Climate Change Minister Catherine McKenna (Ottawa Centre, Ont.) on June 17 declaring a climate emergency, by a vote of 186 to 63. The United Kingdom and Ireland also recently declared climate emergencies, as have a number of municipalities, including Ottawa, Montreal, and Vancouver. The motion declared a national emergency and reaffirmed the government's support to meet the emissions targets in the Paris Agreement.
Echoing the language used in the Breakthrough report, Green Party leader Elizabeth May (Saanich-Gulf Islands, B.C.) said in a tweet "this is a national security issue, it is time we started treating it as one."
The actions already undertaken under the Paris Agreement framework would lead to a global temperature rise of 3°C above pre-industrial levels by 2100, according to the Breakthrough report. The estimate, however, does not include other factors such as long-term carbon-cycle feedback, which exacerbates the rate of temperature change. Carbon-cycle feedback refers to elevated atmospheric carbon dioxide levels leading to rising temperatures, and those rising temperatures further accelerating the rate at which carbon dioxide is released.
"We need to understand that we don't want to get into these feedback loops," said Tom Green, a policy analyst with the David Suzuki Foundation. "Because at a certain point, we lose control."
"The sooner we act, the less we have to do, and the more likely we are to be successful," said Mr. Garrison. "Delay puts us into those possible feedback loops, where climate change runs out of control and makes the earth uninhabitable."
The report argues that with those other considerations, temperatures could increase by 5°C above pre-industrial levels by 2100. Scientists have consistently warned that a temperature increase of 4°C above pre-industrial levels would render organized life essentially impossible. The World Bank has warned the 4°C threshold may be "beyond adaptation." Depending on the region, however, the threshold for inhabitability could be as low as an increase of 2-3°C.
The report critiqued some climate scientists penchant for erring "on the side of least drama." The authors cited studies that show over the past two decades, climate scientists' predictions have "consistently under-estimated the severity of what actually transpired." This is particularly true of large-scale assessments, such as the Intergovernmental Panel on Climate Change's (IPCC) Assessment Reports, which have to satisfy specifications from hundreds of nations before they sign on.
The authors present several reasons, including the scientific community's overall commitment to skepticism in the face of seemingly dramatic or alarmist claims. Earth scientists, according to the report, have historically shown a particular aversion to catastrophic accounts of natural phenomena that other scientists, such as chemists or physicists, have not. 
The report also calls into question the standard approach to climate change-related risk analysis. Traditional risk analysis multiplies the damage caused by a given outcome by the probability of its occurring. The authors argue climate risk is fundamentally different from traditional risk because the "damage is beyond quantification."
"With existential risks, learning from mistakes is not an option, and we cannot necessarily rely on the institutions, moral norms, or social attitudes developed from our experience with managing other types of risk." The report takes a different approach, focusing on "high-end, unprecedented possibilities, instead of assessing middle-of-the-road probabilities on the basis of historic experience." The scenario model is used to "overcome such obstacles" and "enables managers to better handle these critical uncertainties, avoid dangerous group think, and provide flexible rather than unidimensional strategies."
Despite the bleak outlook presented by the report, "it's really important that people understand there is still hope," Mr. Brooks said. Reports like this are "trying to motivate us to take action. This report is trying to say when the house is on fire, you respond, you don't just throw up your hands and await your fate."
achamandy@hilltimes.com
The Hill Times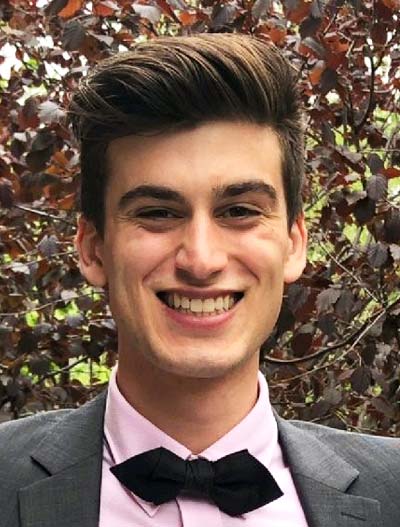 Aidan Chamandy
Aidan Chamandy is a reporter covering federal policy and parties for The Hill Times.
- achamandy@hilltimes.com