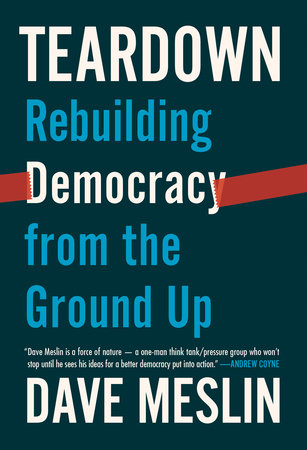 OTTAWA—It's not easy to feel optimistic about democracy these days. In his important new book, Teardown: Rebuilding Democracy from the Ground Up, activist and author Dave Meslin tackles our democratic deficit and proposes meaningful solutions that would encourage more connectivity between citizens and their governments.
"The largest voting segment in the entire country was the group who voted for no one," he writes in the introduction. "The numbers are even worse when it comes to measuring political engagement beyond voting. Between elections, how many people get involved with the decision-making process that affect their lives, their families and their communities? The answer is almost none. It's hard to blame them. Politics has become a demoralizing farce. Most decisions are made behind closed doors by political insiders, while our legislatures have been reduced to arenas of toxic adversarialism–a childish circus and an embarrassment to our species."
If that seems harsh, you've likely never had to navigate a school board meeting, attend municipal consultations, or advocate for your community at the provincial or federal level. There are a lot of reasons for being cynical, and Meslin does an admirable job of summing them all up to set the stage for an entire suite of suggestions that would make participatory democracy possible in this country.
"The growing tides of cynicism and the rise of political leaders who are both vacuous and angry are not reasons to abandon democracy," he suggests. "Quite the opposite: they are the inevitable results of an abandoned democracy. In a time of looming environmental tragedy and increasing economic inequality, is it possible for us to tap into our collective creativity to build a more sustainable, healthy, and inclusive society? I believe we can."
The opening section on "The Mechanics of Exclusion" is a remarkably thorough overview of the many ways our governments work to exclude public participation. There are figurative and literal locked doors between citizens and the decision-makers at every level. This section provides so many simple and obvious suggestions for ways to encourage engagement that it seems obvious that these barriers are not accidental, but are actually features purposefully designed to encourage apathy and discourage participation. "Politicians use their toolkit of tricks, loopholes, and illusions to limit discussion, reduce transparency, and sometimes literally hide from us."
The chapter on the democratic distortions created by our first-past-the-post elections is articulate, clear and concise. If you've ever felt uneasy about the way our votes are translated into results, this book helps articulate just how un-representative our system is at each and every level, and how the "will of the people" is consistently undermined at every step, from nomination, to campaign, to the vote itself.
"It seems that ruthless, adversarial opposition is built into our system by design. In that sense, thinking you can fix the problem by electing better politicians is like trying to fix your smartphone's battered screen by replacing the batteries. Our elected representatives are just one part of the system and, depending on their environment can be pulled towards creativity or battle."
Thankfully, Teardown offers more than a catalogue of shortcomings and complaints. It is a remarkable primer on how things should be and on how to get things done within our current flawed systems."Democracy doesn't have to be an insider's game. Wealthy voices, business lobbyists, and political insiders will always be lurking in the hallways of power, but that's only a problem when they are the only ones there."
From democratizing schools to expanding local governments, from participatory budgeting, crowdsourced legislation, and meaningful consultation to reclaiming the Commons and shuffling the seating in the House, there are more concrete ideas for reform in Teardown than there is room to summarize, so suffice it to say that this is essential reading for anyone who wants help articulating the issues and anyone looking to get more involved in improving their community, region, province, or nation.
Somehow, in spite of all the distressing research compiled here, Meslin remains optimistic that democracy is possible. "Rather than tolerating mob-driven verbal warfare and ruthless tribalism, we have the capacity to transform the House of Commons, our provincial legislatures and our city councils. … Anything less is an absolute betrayal of what we are capable of and what we so desperately need."
We have seen numerous examples of politicians who campaign on promises to reform our democracy and to reduce voter cynicism and the collective sense of powerlessness that pervades the public discourse only for those bold plans to evaporate once they are elected. Teardown suggests that we can, and must, demand more of ourselves and our politicians: "This is no time for tinkering. This is a teardown. Because the most important voice missing from our democracy, is yours."
Sean Wilson is co-founder of the Ottawa International Writers' Festival and its artistic director. 
The Hill Times