On the rare days she felt disheartened, Arlene Boon gazed at the rows of yellow stakes outside her kitchen window. They sprouted from the earth like hundreds of sunflowers in a field, each marked with the name of a well-wisher in indelible black ink. Volunteers had painted the stakes by hand and pounded them into the ground at gatherings reminiscent of barn raisings.
Arlene lived with her husband, Ken, in a bungalow on the crest of a sun-drenched bank of the Peace River in northern British Columbia. She loved to garden. Normally, she cultivated everything from water-melon and tomatoes to artichokes and corn. But this year, in 2017, Arlene had planted little more than potatoes and three solitary rows of green beans. Her future was far too uncertain. Seven months earlier—the week before Christmas—the B.C. government had expropriated the bulk of the Boons' agricultural land and the bungalow that Arlene's grandfather had built. The couple had been ordered to leave their home by May 31.
But by the end of June, the Boons had yet to move. Arlene had boxed up only her sewing and quilting supplies, along with the extra linen, and had stored them in a mini log cabin that Ken had hastily converted into a storage shed. She refused to dismantle anything else. Her grandson Caleb's toys, the china cabinet in the kitchen, and living-room wall trophies from Ken's hunting and trapping days (a stone sheep and lynx among them) remained in place. The refrigerator door continued to sprout family photographs. "We're still here," Arlene told anyone who called or texted.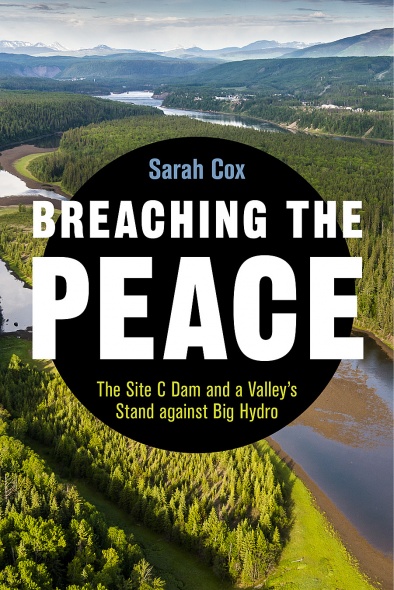 A petite woman with a pixie cut, powder blue eyes, and a heart- shaped face, Arlene had grown up, the second oldest of five children, on a cattle ranch next door to her grandfather's homestead. She had lived in the Peace River Valley for most of her 55 years. Arlene knew where to find prickly-pear cacti in yellow bloom: on the slopes of the Cache Creek Valley that cut through the undulating hills behind the farmhouse. She knew the best places to pick purple Saskatoon berries and red chokecherries for pie, syrup, and jam. She knew where the black bear denned, halfway up the creek bank, emerging most springs with a small furball of a cub and sometimes two. She and Ken tracked Red-Tailed Hawks and Golden Eagles that nested high in the forest that cloaked the creek valley. They described walking through the Cache Creek woods, freckled with old-growth cottonwoods and lively with birdsong, as "akin to a tour through the Sistine Chapel."
For seven years, Arlene had been having trouble sleeping. She would wake in the quiet of the night, needled by the injustice of her situation. Her family had been the caretakers of their forest and farmland for 70 years, and they had looked after it well. They had preserved habitat for wildlife and forged a respectful relationship with local First Nations members, who continued to gather regularly, just as their ancestors had for millennia, at this serene spot near the confluence of Cache Creek and the Peace River, known locally as Bear Flat.
The defining issue in Arlene's life, the one causing her insomnia, was a large hydro project known as the Site C dam. BC Hydro, a provincial Crown corporation, planned to build the dam across the Peace River, a designated heritage river that was the heart and soul of Treaty 8 First Nations territory. The river's low-elevation valley supported rare and precious ecosystems, more than one hundred species vulnerable to extinction, some of Canada's richest farmland, and hundreds of protected heritage and archaeological sites, including Indigenous burial grounds. All would be flooded by the dam's extensive reservoir.
BC Hydro had asserted that the Site C dam would produce clean electricity at a time when concern about global warming was mounting. The former BC government, backed by Canada's federal government, had insisted that the project needed to be built "for the public good," but Arlene didn't believe that rationale for an instant. B.C. didn't need Site C's electricity, and BC Hydro planned to sell the power on the spot market at far less than it would cost to produce it. Even if the province pledged to slash greenhouse gas emissions further, clean energy options such as wind and geothermal could provide the same amount of electricity at the equivalent or a lower price tag and without deep cultural and environmental sacrifice.
The Site C project had seemed unstoppable. But now, defying all odds, its future hung in the balance, largely because of resistance led by the Boons and other Peace Valley landowners and First Nations. Two years into clear-cutting and bulldozing in preparation for the dam's construction, a series of extraordinary events had finally led to an independent review of the project. The Boons and their immediate neighbours had been given a four-month reprieve from eviction—Arlene called it her "stay of execution"—while the review, ordered by a new provincial government, was hastily convened.  
The Boons had begun a Herculean task equipped only with dial-up internet, an aging desktop computer, and no cell reception. They had no experience using social media, being interviewed by media, or giving public talks, and they knew no more about legal matters than your aver-age Canadian homeowner. Yet as accidental activists, they played a game-changing role in propelling the Site C dam project into the public spotlight and finally garnering the critical scrutiny it deserved. "Some-one's got to hold BC Hydro accountable," explained Arlene as she reflected on their struggle. "We're going to be a thorn in their side for as long as we can stand it."
At the eleventh hour, Arlene clung to a brightening beacon of hope that the dam could still be stopped. By day, she and Ken farmed fields that no longer legally belonged to them. By night and day, they fought Site C. Theirs was a war of principle, of sheer grit. Standing on her three front steps in the fall of 2017, waiting for the final verdict on her family's future, Arlene could see a gleaming stretch of the Peace River far below. The river often changed colour like a chameleon, sometimes blue, some-times silver, mocha with the spring melt, pink in the setting sun.
Arlene had already witnessed the disfigurement of some of the valley for the dam, including the clear-cutting of the Cache Creek forest immediately below her home. But even now, two years into a planned nine-year construction project, almost 90 per cent of the Peace River Valley remained untouched. When Arlene turned her head to look downstream, where the Peace River curved like a fish hook and disappeared, her vista of old-growth forest and terraced slopes remained unchanged.
Arlene grappled with a weariness that could not be lightened by a good night's sleep. The journey had been long and fraught. But there was nothing—neither rest nor money—that would persuade her to surrender now.
Excerpted with permission from Breaching the Peace: The Site C Dam and a Valley's Stand against Big Hydro by Sarah Cox, published by On Point Press, an imprint of UBC Press, Vancouver and Toronto. For more information go to www.ubcpress.ca.
Two questions for Sarah Cox
Why did you want to write this book? "The Peace River Valley is largely out of sight and out of mind for Canadians because it's so far away from where most of us live. Once I spent time there and met farmers and First Nations members—people who would lose their homes, their farms, their beautiful valley and the heart of their traditional territory to the Site C hydro dam—I felt compelled to tell their stories.
"I was struck by the lack of due process and the misinformation and secrecy that shroud the Site C dam and I wanted to focus on the facts, starting with the myth that big hydro is the most cost-effective way to produce clean electricity.
"Another myth is that the Site C project is 'green,' or environmentally friendly. Some of Canada's leading scholars reviewed the project and found that it will have more significant adverse environmental effects than any project ever examined in the history of Canada's Environmental Assessment Act. Among other impacts, the Site C dam will destroy habitat for more than 100 species already vulnerable to extinction, including bird, plant, butterfly, bee and mammal species—this at a time when scientists warn we are facing a biodiversity crisis.
"The Site C dam and its huge reservoir will also destroy some of Canada's richest farmland, stunning ancient wetlands called tufa seeps, old-growth boreal forests and a living laboratory for scientists to study how species adapt to climate change. This rare, low-elevation northern valley is a meeting place for species from four different biomes and its home to an unexpected number of outlier species: species at the extent of their range either because they are remnants of past populations or because they are on the move. It's also a flyway for migratory birds and a boreal bird nursery. More than 30,000 song birds and woodpeckers nest in the dam's future flood zone, which stretches the equivalent distance of driving from Toronto to Niagara Falls when you include Peace River tributaries that would be flooded.
"I was also interested in looking at the Site C dam—the largest publicly funded infrastructure project in B.C.'s history—through the lens of whether or not it is in the public interest. British Columbian ratepayers (or taxpayers, if BC Hydro, which is already deeply indebted, gets a government bailout to help pay for the dam) will be on the hook to make up the big gap between what the power will cost to produce and what it can be sold for. Much the same circumstances prevail with two other large hydroelectric dams now under construction in Canada—Manitoba's Keeysak dam and Newfoundland/Labrador's troubled Muskrat Falls dam.
"But most of all, the book tells the story of the people who continue to try to stop the destruction of the Peace River Valley, detailing how they have been treated by their own provincial government and power corporation. These are people like third generation farmers Ken and Arlene Boon, who became accidental activists because of this project, and Roland Willson, chief of West Moberly First Nations, a member of the Treaty 8 Tribal Council, whose ancestors have called the Peace River Valley home for more than ten thousand years."
Why is this book important and who should read it? "Like countries the world over, Canada faces immense challenges with rapid climate change. We need to reduce the amount of greenhouse gases we produce in a significant way and we must do so quickly.
"From the outset, the Site C project was marketed to British Columbians as the 'Site C Clean Energy Project.' The B.C. government and publicly owned electrical utility, BC Hydro, relentlessly promoted the dam as a necessary tool in efforts to combat climate change.
"But the list of environmental impacts associated with big hydro projects is lengthy, and casts serious doubt on any claim that the power produced from them is clean in any way. Lost farmlands buried under water, fish poisoned by methylmercury in hydro reservoirs and eradicated habitat and migratory routes for at-risk species are just a few examples why big hydro projects are far from environmentally friendly.
"The economic implications of building large hydroelectric dams are also generally not well appreciated, at least until such projects are well under construction and questions inevitably begin to be asked about why their price tags soar far beyond original estimates.
"In Newfoundland and Labrador, for example, $33.7-million is being spent on an inquiry into the Muskrat Falls dam, which is now closing in on a whopping $13-billion, twice its original price tag. To pay for the project, the best-case scenario in that province is a 50 per cent hydro rate increase. Meanwhile, on the other side of the country, the Site C dam, less than half way through construction, is now estimated to cost $10.7-billion, and is already $4-billion more than the price tag when the dam was announced in 2010. One independent review warns the final tab could exceed $12.5-billion.
"From a public policy perspective, those huge, publicly incurred costs ought to be weighed against the costs of far less destructive renewable energy options, such as wind power, geothermal, small-scale hydro, pumped storage hydro and solar power.
"On the wind front, for example, the government of Alberta recently purchased wind power for $37 dollar per megawatt hour. In a recent call for bids in the U.S., the median price for wind power with storage was US$21 per megawatt hour. Compare that to the cost for Site C power, which independent energy experts estimate will be between $100 and $120 per megawatt hour. In a country in great need of reducing carbon emissions we need to be looking seriously at the most cost-effective means of delivering new carbon-friendly power in a way that protects the environment and respects human rights.
"The global human rights group Amnesty International has chosen the Site C dam as a primary focus for its work in Canada, outlining why construction of the Site C dam violates international human rights standards and conventions. For example, the project fails to meet international standards for the forced evictions of people like Ken and Arlene Boon, which state that no alternatives must be available. It also violates the United Nations Declaration on the Rights of Indigenous Peoples, which Canada and B.C. have pledged to uphold. In a rare rebuke, the UN Committee for the Elimination of Racial Discrimination told Canada to suspend construction of the dam until the project obtained the "free, prior and informed consent" of Indigenous peoples. Canada had until April 8 to report back to the committee; it missed that deadline.
The book will be of interest to anyone interested in climate change and human rights. It will also be of interest to people concerned about the erosion of our public institutions, the growing lack of transparency and accountability from governments and Crown corporations, and the influence that vested interests have come to have in matters of Canadian public policy.  
The Writers' Trust of Canada's 2018 Shortlist for the Shaughnessy Cohen Prize for Political Writing
Homes: A Refugee Story, by Abu Bakr al Rabeeah and Winnie Young, Freehand Books, 2018.
Breaching the Peace: The Site C Dam and a Valley's Stand Against Big Hydro, by Sarah Cox, On Point Press, 2018.
Boys: What it Means to Become a Man, by Rachel Giese, Patric Crean Editions, 2018.
Big Lonely Doug: The Story of One of Canada's Last Great Trees, by Harley Rustad, House of Anansi Press, 2018.
Pipe Dreams: The Fight for Canada's Energy Future, by Jacques Poitras, Viking Canada, 2018.
The Hill Times