A clip of Conservative MP Scott Reid accusing Prime Minister Justin Trudeau of eating a bagel during last week's marathon voting session was put in the spotlight by late-night host Jimmy Kimmel who poked fun at the Tory MP.
"You're not getting a bite now, you bitchy little snitch," Mr. Kimmel quipped. "What a tattletale."
Mr. Trudeau admitted to eating a chocolate bar, but not a bagel.
"How do you confuse a chocolate bar with a bagel?" Mr. Kimmel asked. "Bacon is round in Canada, are their chocolate bars round there, too?"
Defence Minister Harjit Sajjan, who Mr. Reid also accused of eating in the House, tweeted that the Conservatives were "getting owned on prime time." Mr. Reid also called out Canadian Heritage and Multiculturalism Minister Pablo Rodriguez for breaking House rules.
Second annual Women on the Hill shindig on April 8
Last year, 500 guests came out to the inaugural Women on the Hill event, and the party's second instalment will celebrate a diverse working environment with politicians, bureaucrats, diplomats, journalists, and others next month.
Attendees at last year's event included International Development and Women and Gender Equality Minister Maryam Monsef, all-party women's caucus chair Anita Vandenbeld, Environment Minister Catherine McKenna, Green Party Leader Elizabeth May, and Conservative MP Stephanie Kusie.
The party is being hosted by the All-Party Parliamentary Women's Caucus, Equal Voice, Famous 5 Ottawa, Women in Communications and Technology, and the Canadian Women's Foundation.
It will be hosted at the Sir John A. Macdonald Building on April 8 from 5 to 7 p.m.
RSVP is required, and space is limited. Government photo identification is needed to enter.
APTN broadcasts 'first' NHL game in Cree, Romeo Saganash says he has it beat
As APTN billed its broadcast of a Montreal Canadiens and Carolina Hurricanes game on March 25, as the first ever in Cree, NDP MP Romeo Saganash said he first did it in the 1980s.
"The first ever was in '88 when Sid Ottereyes, Ernest Webb and I live broadcasted a [Montreal Canadiens-Quebec Nordiques] game," Mr. Saganash tweeted.
Doing play-by-play on March 25 was Clarence Iron, and former NHLer John Chabot was the analyst.
The Hurricanes defeated the Canadiens 2-1 in overtime.
The game was broadcast on Rogers Hometown Hockey, when the touring show stopped by Enoch Cree Nation in Alberta.
The Heymans to launch new memoir on April 30 in Ottawa
Former U.S. ambassador to Canada Bruce Heyman and his wife Vicki will launch their new book, The Art of Diplomacy: Strengthening the Canada-U.S. Relationship, on April 30 at the National Gallery of Canada.
Mr. Heyman was former U.S. president Barack Obama's second and final envoy to Canada, serving in the post from 2014 to 2017.
The Heymans' book looks into the importance of diplomacy and spotlights the importance of the Canadian-U.S. relationship.
Former prime minister Jean Chrétien called the book "very original."
"The Heymans model what it means to be progressive in politics," Mr. Chrétien said.
The book was also positively reviewed by former Obama senior adviser David Axelrod.
"Bruce and Vicki Heyman give us a behind-the-scenes look at what diplomacy is really about: relationships," he said.
Tickets to the event are being sold for $20 or, for $30, tickets come with a signed copy of the book.
Andrew Leslie out of action, recovering from shoulder surgery
Liberal MP Andrew Leslie has been absent from the House this month as he recuperates from shoulder replacement surgery.
Mr. Leslie announced the surgery on Facebook, saying that he will return to work in April.
Before his election in 2015, Mr. Leslie was a lieutenant-general in the Canadian Forces, serving for nearly 35 years from 1977 to 2011.
He took his seat in the House of Commons, after defeating three-term Conservative Orléans, Ont., incumbent Royal Galipeau with 59.7 per cent of the vote.
Mr. Leslie is the parliamentary secretary to Foreign Affairs Minister Chrystia Freeland, with a special responsibility for Canada-U.S. relations.
Sen. Ratna Omidvar and CIGI to host global refugee event featuring Lloyd Axworthy
World Refugee Council chair Lloyd Axworthy will be speaking at an April 10 event on the ways the global refugee system can be transformed for the better.
The event, hosted by Independent Senator Ratna Omidvar and the Centre for International Governance Innovation, will look at the council's report, A Call to Action: Transforming the Global Refugee System. The report has 55 recommendations to attract political support in enhancing the world's refugee and internally displaced persons systems.
Mr. Axworthy was a Liberal MP from 1978 to 2000, and served as minister of transport, employment and immigration, labour, and foreign affairs in the governments of Pierre Trudeau and Jean Chrétien. He has appeared before the House Foreign Affairs, and Immigration and Citizenship Committees.
The free event will take place at the Wellington Building in room 325 from 5:30 to 7:30 p.m. Light snacks and beverages will be offered.
Philippe Hallée named new Senate law clerk and parliamentary counsel
Philippe Hallée is set to become the Senate's newest law clerk and parliamentary counsel on April 22, the Senate Committee on Internal Economy, Budgets, and Administration announced on March 25.
The law clerk and parliamentary counsel is the main legal adviser to the Senate. Mr. Hallée will work with Senate Speaker George Furey, Senators, and Senate committees in assisting their parliamentary functions.
"Mr. Hallée's extensive knowledge and experience have earned him high respect in the legal field and I am confident that he will serve the Senate with the utmost professionalism, integrity, and dedication," Mr. Furey said in a statement.
Mr. Hallée was previously the director of legal operations at the Privy Council Office, where he has worked since 2016. Prior, he worked for the Department of Justice, including as the chief legislative counsel from 2012 to 2016, where he worked with the Senate, House of Commons, and Canada Gazette to enable data to be passed between the institutions for more efficient drafting and publication of government bills.
Mr. Hallée is the Senate's 10th law clerk and parliamentary counsel. He replaces former law clerk Jacqueline Kuehl, who left the Senate for the Justice Department in July.
Separated

at birth, eh?

nmoss@hilltimes.com

The Hill Times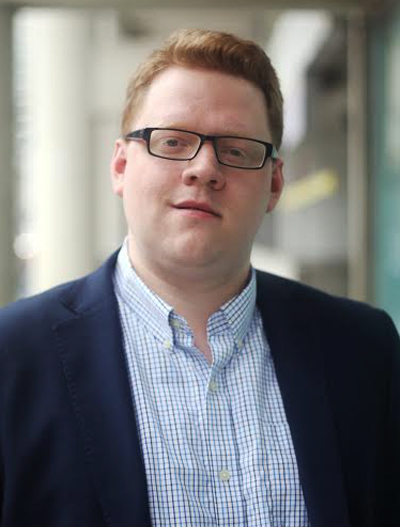 Neil Moss
Neil Moss is a reporter at The Hill Times covering federal politics, foreign policy, and defence. 
- nmoss@hilltimes.com