From the House of Commons curator, to the opposition lobby staffer, to the journalist who broke a national story, to the PMO's Canada-U.S. relations team, every week, ordinary people are doing some extraordinary work on the Hill. The Hill Life is a new weekly newsletter sent every Friday focused on the people in front of and behind the scenes. 
Members of Parliament marked their return after the six-week break by christening their new digs in West Block. The move over hasn't been entirely smooth—on day two, flooding on multiple floors forced the parliamentary cafeteria to close. Prime Minister Justin Trudeau also had to find another spot to hold his meeting with the premier of Prince Edward Island. His office, however, was unaffected by the flooding.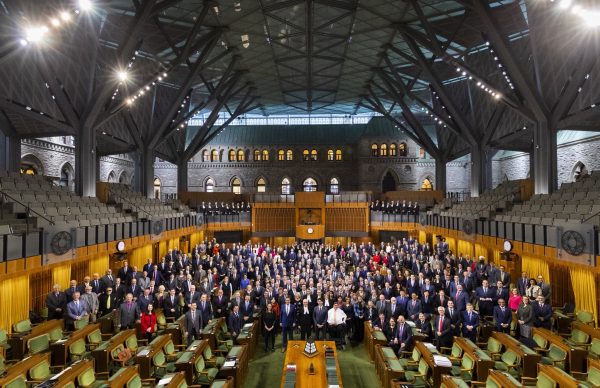 MPs christened the new chamber in West Block by re-staging the class photo they took in Centre Block before the big move. Photograph courtesy of the House Speaker's Twitter
Though the parties gave political observers a preview of the attacks they plan to lean heavily on in the election campaign, they also took time to unanimously pass a motion to get Paul Henderson—the man behind Canada's most iconic goal—inducted into the Hockey Hall of Fame for his "incredible contribution" to Canadian hockey.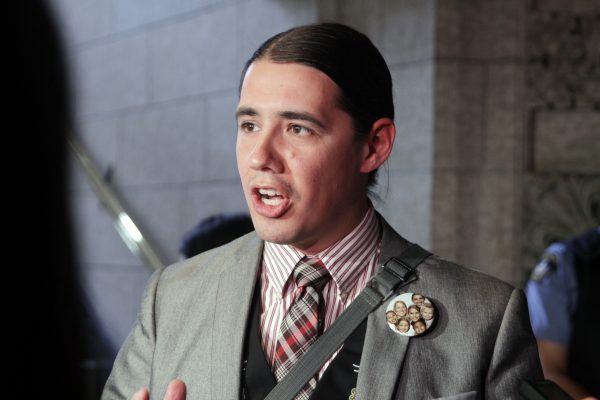 Liberal MP Robert-Falcon Ouellette made history this week when a speech he delivered in Cree in the House was simultaneously translated into English, with the help of an interpreter. It's a new service that MPs will have the option of using in the House when there's an interpreter available and enough notice is given. In a recent interview with The Hill Times, the MP for Winnipeg Centre said he had been lobbying for this translation service for almost two years. He used this history-making opportunity to call on the Heritage minister to provide an update on the government's efforts to "protect and revitalize Indigenous languages in Canada." Heritage Minister Pablo Rodriguez said the government's legislation, which was supposed to have been introduced last year, will be tabled soon. Mr. Rodriguez was at the UN on Friday for the launch of the International Year of Indigenous Languages.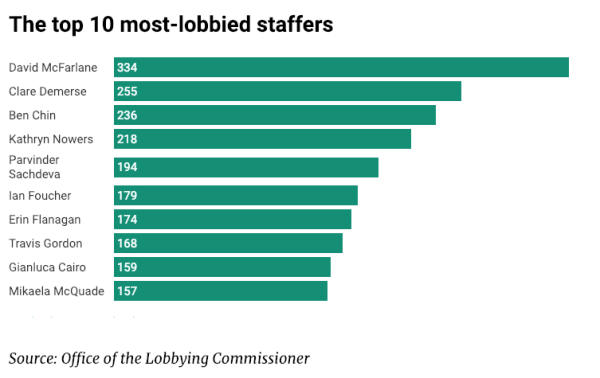 Meet the top-lobbied political gatekeepers in 2018. Canada's most sought-after political aide happens to be David McFarlane, the policy director to Innovation Minister Navdeep Bains, who himself has long been lobbyists' chief target, thanks to his vast file. Among backbenchers, Liberal MP Francesco Sorbara, who sits on the House Finance Committee, racked up the most communication filings.
Hottest winter and spring shindigs. Even though spring can't come soon enough, there are a few gatherings in the winter to look forward to, including the Earnscliffe/iPolitics post-budget bash and Politics and the Pen, where politicians, lobbyists, and literary and media figures hobnob with one another.
And then there were 99. Political fortunes can change in a span of a week. Just ask former ambassador John McCallum. The Hill Times had to revise its annual list of the top 100 most influential figures in politics after Mr. McCallum was fired as Canada's ambassador to China. Though Mr. McCallum was given the boot last Friday, the news wasn't announced until Saturday—and by then, our Monday issue had already gone off to press. This year's list, for the most part, will likely hold up between now and October, but there are bound to be a few surprises along the way.
Rural Economic Development minister gets official marching orders. Atlantic Canada's Bernadette Jordan this week received her mandate letter, which outlines her responsibilities in the months ahead, including shepherding efforts to expand access to broadband internet in rural and remote areas. She also recently scooped up Cory Pike, who had worked at Public Safety as the director of issues management and regional affairs, as her new chief of staff.
The Hill Times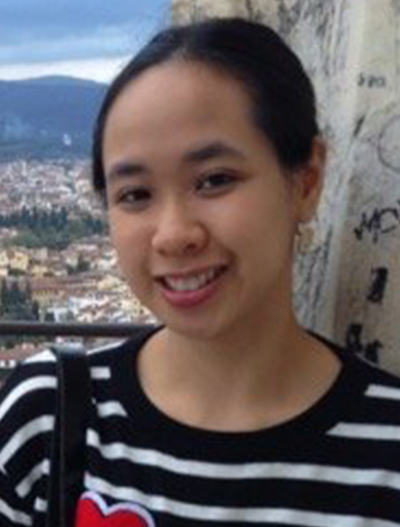 Beatrice Paez
Beatrice Paez is the digital editor at The Hill Times.
- bpaez@hilltimes.com