Whether it's the convenience of being able to duck into one of the Red Chamber's meetings, or debating in the same room where other political giants have once stood, MPs say there will be plenty to miss once Centre Block shuts its doors temporarily for at a least a decade to undergo much-needed renovations.
The Hill Times caught up with a handful of MPs, including some who have been ensconced in one of the offices in Centre Block for years, and asked them what they will miss most about the building and what working there has meant to them.
The quotes have been edited for length and clarity.
House Speaker Geoff Regan is brimming with stories to tell about his office, an ornate room, lined wall to wall with volumes of past parliamentary debates and accented with carvings of symbols—English rose, thistle—that still reflect Canada's colonial ties to its British motherland. At one end of the room, there's a portrait of former British prime minister Winston Churchill taken on Dec. 30, 1941, the day he addressed Parliament, in the Speaker's Office, and a few weeks after the bombing of Pearl Harbor, which prompted the U.S. to declare war on Japan.
Mr. Regan (Halifax West, N.S.) recalls how that photograph of Mr. Churchill throwing shade at the camera was taken in the office he now occupies: "[Photographer] Yousuf Karsh, he was standing somewhere around here. Karsh asked him to remove the cigar—remember this is the son of [Lord] Randolph Churchill. And he declines to do so. Karsh pulls out his light meter and he walks over to Churchill. Remember, he wants to capture the personality of the person who was, at that moment, the leader of the free world, giving impassioned speeches. Karsh takes out his light meter and goes over to Churchill, as if giving a light reading, so he can adjust his aperture, his shutter speed, and says, 'Forgive me, sir.' He goes back and takes the picture, and that's the reaction he gets. It becomes perhaps the most famous photographic portrait ever taken." (That photograph, shot in Canada, has been affixed on the five-pound British note since 2016. Meanwhile, the print in the Speaker's Office likely won't fit in his new office and will undergo restoration work. There is, however, a smaller print that was also given by Karsh, which could follow Mr. Regan at West Block.)
"When I tell the story of Churchill, well, I can't say he was standing over here. It doesn't have the same impact at all."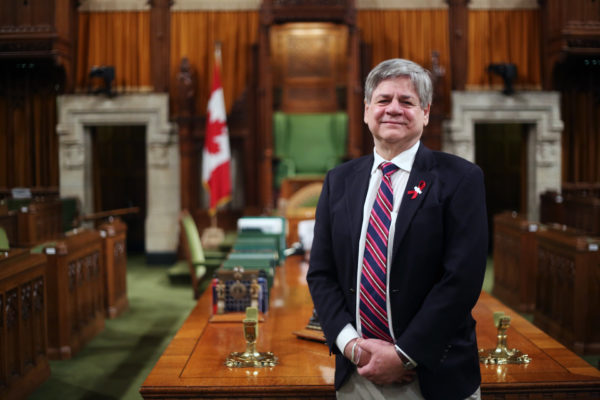 With the House and Senate living apart for the duration of the renovations, Liberal MP Larry Bagnell, who represents the Yukon, laments that there will be fewer opportunities for the two chambers to confer and check in on what the other is up to. "In a way, there probably should be more of a connection between the two legislative bodies. It's going to be harder for the next 13 years while we're separated. We won't be running into each other anymore. For instance, the Senate has a committee on the Arctic, which the House of Commons does not have. When I can, I try to go to those meetings. You just have to go downstairs between your other meetings. They'll probably be too far away that now I won't be able to fit them in between other meetings." The Hill Times photograph by Andrew Meade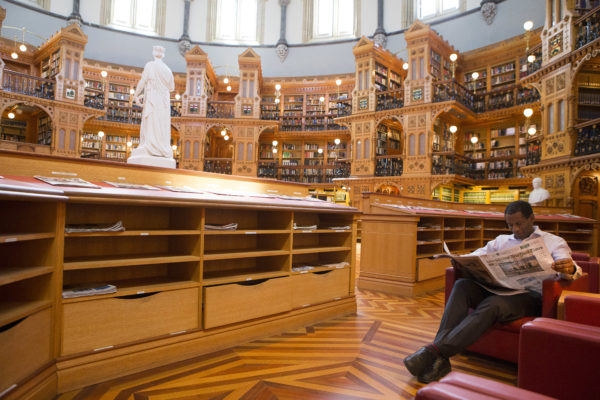 Liberal MP Greg Fergus, pictured in the Library of Parliament, remembers his first day on the job in Parliament Hill fondly. It was Aug. 16, 1988, he just turned 19, and was starting his year-long stint as a parliamentary page. He and a fellow page were still getting their bearings when a parliamentary guard decided to take them under his wing that very day. "We obviously looked lost. One of the security guards introduced himself to us, and as it turned out, it was his first few weeks on the Hill. He just sort of adopted us over time. … He took us up to the Peace Tower and showed us around. He's a wonderful man. For the last 29 years, Bernard Plouffe and I, we became friends. Over the years, he's always greeted me warmly. He just took his retirement last year." Mr. Fergus, who represents Hull-Aylmer, Ont., expects to officially say goodbye to Centre Block after he organizes a tour of the building for the parliamentary guards. "The individual guards always accompany us on these tours, but I thought it would be great for all the guards to get a chance to do the same tour." The Hill Times file photograph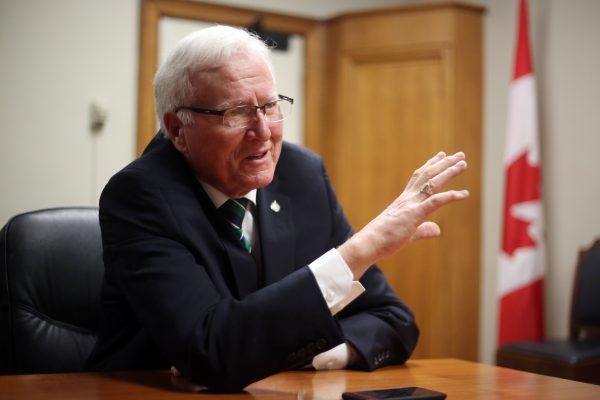 Liberal MP Bill Casey (Cumberland-Colchester, N.S.) has literally, and figuratively, walked on both sides of the aisle, having been booted from the Conservative caucus after refusing to vote for the Harper government's budget in 2007. He was forced to sit as an Independent. After a brief retirement from politics to deal with cancer, he was later wooed by Justin Trudeau to run under the Liberal banner. Mr. Casey said his favourite part of Centre Block—a portrait of Sir Charles Tupper—has already left the building. (The painting will be restored before it's moved to West Block.) The man who led Nova Scotia to join Confederation also hailed from Amherst, N.S., where Mr. Casey was born. "I'll miss the excitement of trying to accomplish things. It gives you a great sense of satisfaction, and a great sense of pride. … I walk down the halls of this place, every single day. I look at the ceilings and marvel at how it was built. I just get the same thrill now as I get 30 years ago, and when I go home at night, I always stop and halfway down my walk, I turn around and look up at the Peace Tower and think, 'How can one person be so lucky to work here?' " The Hill Times photograph by Andrew Meade
Vancouver East's NDP MP Jenny Kwan was part of the freshman class of MPs in 2015, but now she feels she's finally got a handle on navigating Centre Block: "It took me a bit to actually find my way around Centre Block. I used to get confused about which corridor to go to find certain rooms, especially the basement. It's almost like a maze down there to me. I finally just sort of got it figured out, and now we're moving. Centre Block, as a new MP in 2015, is a building that has a lot of meaning for me. When I came in, I was in awe of the beauty and the significance of the building. The thing that I will miss is the fact that I've finally figured out where all the corridors and all the rooms are without getting lost." The Hill Times file photograph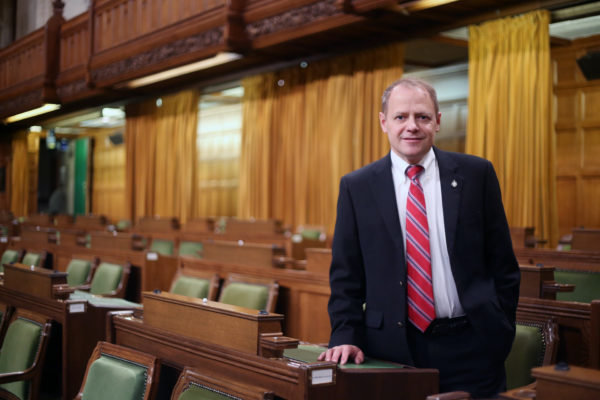 Winnipeg North Liberal MP Kevin Lamoureux, parliamentary secretary to Government House Leader Bardish Chagger, occupies a special role in the party caucus—and in the House. He can whip up an argument at a moment's notice and has routinely topped the list of MPs who have spoken the most in the House. He also spends a lot of time in the Chamber and has an office in Centre Block. "It [Centre Block] has a great deal of meaning for a great number of people. And when you think about our country, what makes it great is our system. There's no finer institution than the Parliament Building. [West Block] pales in comparison. Just a few feet from here, Winston Churchill delivered his speech. There's been inspirational leaders from all regions of our country who have had the opportunity to address the Chamber. That's the sort of thing you can't replace." Mr. Lamoureux doesn't expect to still be in office when the Parliamentarians return to Centre Block at least a decade from now. But that's not to say he won't have reason to visit. His daughter Cindy Lamoureux, an MLA in Manitoba, could make a play for his seat when he eventually retires.
bpaez@hilltimes.com
The Hill Times