Prime Minister Justin Trudeau has summoned the members of his cabinet to the seaside city of Nanaimo on Vancouver Island for a three-day strategy session this week. The meeting comes roughly a month before the House of Commons returns from the summer break, and with horserace polls showing the Liberals and Conservatives neck-and-neck if an election were held now.
The Conservatives, meanwhile, are holding their three-day national party convention on the other side of the country in Halifax beginning on Thursday, with dozens of proposed changes to party policy on the agenda.
Here's what else is going on around the Hill and beyond over the rest of the summer.
---
MONDAY, AUG. 20
House Adjourned—The House adjourned on Wednesday, June 20, and won't return until Monday, Sept. 17.
---
TUESDAY, AUG. 21
Cabinet Retreat—The Trudeau cabinet will meet in Nanaimo, B.C., from Tuesday, Aug. 21 to Thursday, Aug. 23.
---
WEDNESDAY, AUG. 22Â 
Yoga on the Hill—Want to get your downward dog on for free and on the most famous front lawn in Canada? Every Wednesday at noon and all summer long, there is a free yoga session on Parliament Hill in Ottawa. Namaste
Canadian Energy Pipeline Association Reception and Equipment Displays—The reception will be held on Wednesday, Aug. 22, 5-7 p.m., at the Shaw Centre in the Canada Hall, 55 Colonel By Dr., Ottawa. Also, a Joint Emergency Management Exercise and displays will take place on Thursday, Aug. 23, 7:30 a.m.-5 p.m., in the same room, and will include a comprehensive introduction to the industry's emergency preparedness, response capabilities, and the role of government in emergency response. RSVP by Aug. 20.
---
THURSDAY, AUG. 23
Conservative Party National Convention—To be held in Halifax, N.S., until Aug. 25. Confirmed speakers are set to include: Conservative Member of the European Parliament Daniel Hannan and entrepreneur François Lambert. The party will vote on policy, train for the next election, and hear from speakers. cpc18.ca.
[caption id="attachment_154425" align="alignright" width="800"]
Conservative Leader Andrew Scheer will oversee the first party policy convention during his time as leader this week, with proposed changes related to everything from supply management to military spending on the agenda. The Hill Times photograph by Andrew Meade[/caption]
An Evening with Hedy Fry and Bill Morneau—The Vancouver Centre Federal Liberal Association is holding a fundraising reception with local MP Hedy Fry and special guest Finance Minister Bill Morneau. Century Plaza Hotel, 1015 Burrard St., Vancouver. Aug. 23. 5:30 p.m. $100-$500. events.liberal.ca.
---
THURSDAY, AUG. 30
ASEAN Economic Ministers' Meeting—International Trade Diversification Minister Jim Carr will attend the 50th ASEAN Economic Ministers' Meeting in Singapore between Aug. 30 and Sept. 2.
Ottawa International Writers Festival—Chris Hedges, author of America, The Farewell Tour, will be on stage with Hill Times publisher Jim Creskey at the Southminster United Church, 15 Aylmer Ave., Ottawa, Aug. 30, at 7 p.m. Get tickets online at writersfestival.org.
An Evening with Justin Trudeau—The Liberal Party of Canada is hosting this fundraising event featuring Prime Minister Justin Trudeau. Paramount Fine Foods Centre (formerly Hershey Centre), 5600 Rose Cherry Pl., Mississauga. Aug. 30. 7-9 p.m. $750-$1,500. events.liberal.ca.
---
WEDNESDAY, SEPT. 5
Canada and the U.S. Midterm Elections—Hear from New York Times journalists hot off the campaign trail talking about what they have seen during one of the United States' most consequential congressional elections in a generation. White House correspondent Julie Davis will join political reporters Jonathan Martin and Astead Herndon for this conversation about the midterms. Times reporter and author of the Canada Letter newsletter Ian Austen will moderate the conversation. Wednesday, Sept. 5. 6:30-7:45 p.m. National Gallery of Canada, 380 Sussex Dr., Ottawa. Tickets are available for $15 for Times subscribers and $25 for others: timesevents.nytimes.com/midtermscanada.
---
TUESDAY, SEPT. 11
Liberal National Caucus—The Liberals will hold their national caucus this summer from Sept. 11 to 13 in Saskatoon. For more information, pleased call Liberal MP Francis Scarpaleggia, chair of the national Liberal caucus, at 613-995-8281.
NDP Caucus Retreat—Ahead of the upcoming parliamentary sitting, the NDP caucus is holding its national strategy session from Tuesday, Sept. 11 until Thursday, Sept. 13 in Surrey, B.C. The event will begin at about 1 p.m. on Tuesday and conclude at about 2 p.m. on Thursday. Sheraton Vancouver Guildford Hotel, 15269 104 Ave., Surrey, B.C. Media interested in attending should contact the NDP media centre: 613-222-2351 or media@ndp.ca.
Brian Mulroney Talks with the Librarian and Archivist of Canada—Dr. Guy Berthiaume, the librarian and archivist of Canada, will interview former prime minister Brian Mulroney before a live audience as part of Library and Archives Canada's Signature Series interviews, which feature individuals who can lend insight into the Library and Archives collection because they donated records to the Library or are experts in its archives. The discussion will be in English and French with simultaneous translation available. A 15-minute question period for media will follow. The event will be held at Library and Archives Canada on 395 Wellington Street, 2nd floor, from 12:15 p.m. to 1:15 p.m.
Taxpayers' Town Hall—The office of the taxpayers' ombudsman is holding a series of taxpayer town halls to provide information on taxpayers' rights and discuss with taxpayers about Canada Revenue Agency (CRA) service issues. The first is in Ottawa on Sept. 11, beginning with a French-language session at 6 p.m. and an English session at 7:30 p.m. at the RA Centre, Courtside B, at 2451 Riverside Dr. The event is free, but space is limited. Pre-register by email at outreach@oto-boc.gc.ca or by telephone at 613-946-2974.
---
FRIDAY, SEPT. 14
Spotlight on 42: Changes, Challenges and Conclusions—The Canadian Study of Parliament Group is offering a full-day conference on the 42nd Parliament. The four panels of this conference will discuss topics related to changes and challenges specific to the 42nd Parliament, including: the changing bicameral relationship, making Parliament more inclusive, innovations in the House of Commons, and a check on the Senate modernization process. Cost: $150 for members, $200 for non-members, $25 for students. 8:30 a.m.-4 p.m. Sir John A. Macdonald Building. 144 Wellington St., room 100. For more information, visit cspg-gcep.ca or contact the CSPG Secretariat at 613-995-2937 or info@cspg-gcep.ca.
---
MONDAY, SEPT. 17Â 
House Sitting—The House returns after a 12-week break on Monday, Sept. 17. Once it returns, the House will sit from Sept. 17-Oct. 5, every weekday. It will break Oct. 8-Oct. 12 and will resume sitting again for four weeks, from Oct. 15-Nov. 9. It will break again for one week, Nov. 12-16, and will return for four weeks, the last four of 2018, sitting from Nov. 19-Dec. 14. While the House is adjourned for six weeks until Jan. 28, 2019, the occupants of Centre Block are scheduled to be moved to the West Block, the Government Conference Centre, and other buildings in the Parliamentary Precinct. The Centre Block is expected to be closed for 10 years for a massive rehabilitation and renovation project, so that's at least 2029, folks.
[caption id="attachment_154426" align="alignleft" width="800"]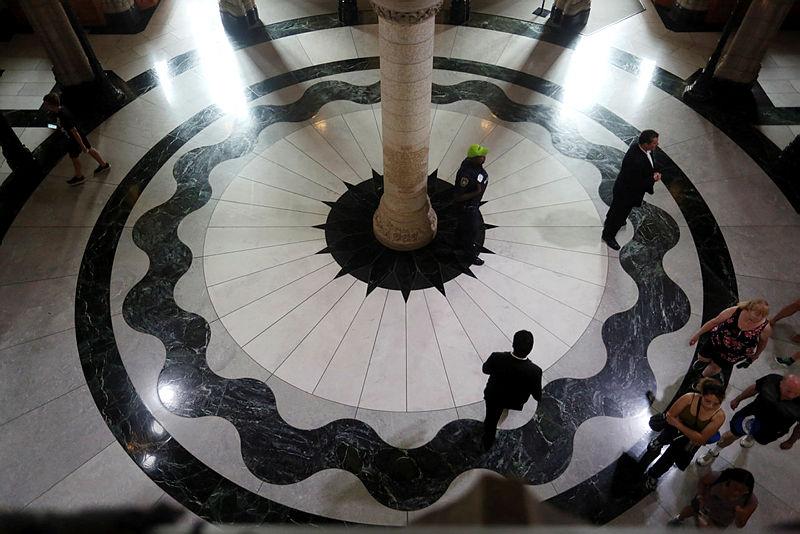 The Rotunda in Centre Block will get a lot busier once the House and Senate return from the summer break in mid-September. The Hill Times photograph by Andrew Meade[/caption]
---
TUESDAY, SEPT. 18
Senate Sitting—The Senate returns after a 12-week break on Tuesday, Sept. 18.
---
WEDNESDAY, SEPT. 19
Liberal Caucus Meeting—The Liberals will meet in Room 237-C Centre Block on Parliament Hill. For more information, please call Liberal Party media relations at media@liberal.ca or 613-627-2384.
Conservative Caucus Meeting—The Conservatives will meet for their national caucus meeting. For more information, contact Cory Hann, director of communications with the Conservative Party of Canada at coryhann@conservative.ca.
NDP Caucus Meeting—The NDP caucus will meet from 9:15-11 a.m. in the Wellington Building. For more information, please call the NDP Media Centre at 613-222-2351 or media@ndp.ca.
Québec Debout Caucus Meeting—The Québec Debout caucus will meet from 9:30 a.m. in La Francophonie room (263-S) in Centre Bock, on Wednesday. For more information, call press attaché Julie Groleau, 514-792-2529.
Canada Hosts G7 Oceans Ministers—As part of Canada's G7 presidency, ministers will co-host a meeting of G7 environment, energy, and oceans ministers in Halifax, N.S., from Sept. 19 to 21. Under the theme of Working Together on Climate Change, Oceans, and Clean Energy, ministers will discuss global climate action, clean growth and sustainable finance, resilient coasts and fisheries, plastic pollution, energy security, and clean energy. g7.gc.ca.
---
FRIDAY, SEPT. 21
Women's Foreign Ministers' Meeting—Canada and the European Union are hosting a Women's Foreign Ministers' Meeting, Sept. 21-22 in Canada.
[caption id="attachment_154428" align="alignright" width="800"]
Foreign Affairs Minister Chrystia Freeland, widely thought to be one of Prime Minister Justin Trudeau's top performing ministers, will help Canada to co-host a meeting of the world's female foreign ministers in Canada Sept. 21 and 22, along with the European Union. The Hill Times photograph by Andrew Meade[/caption]
---
SUNDAY, SEPT. 23
Canada Army Run—The 11th edition of the Canada Army Run takes place on Sunday, Sept. 23. Don't miss your chance to take part in this unique military-themed community event held in the National Capital Region. Sign up soon to run, walk, or roll.
---
MONDAY, SEPT. 24
New Brunswick Votes—Voters go to the polls today to elect members of the New Brunswick legislature.
---
TUESDAY, SEPT. 25
CMF Showcase 2018—This event, which will be held on Tuesday, Sept. 25, at 5 p.m. in the Sir John A. Macdonald Building, will feature the very best of Canadian television and digital productions, including opportunities to experience new video games and virtual reality supported by the Canada Media Fund and interact with the stars of top Canadian television shows. For more information, please email rsvp@summa.ca.
---
MONDAY, OCT. 1
Quebec Votes—Voters in Canada's second most populous province go to the polls on Monday, Oct. 1 to elect members of the Quebec National Assembly.
Canadian Leadership on Nuclear Disarmament—The Canadian Network to Abolish Nuclear Weapons and Canadians for a Nuclear Weapons Convention will sponsor this one-day forum featuring keynote speaker Joe Cirincione, president of the Ploughshares Fund in Washington, D.C. Monday, Oct. 1, 8:30 a.m.-4:30 p.m. Cartier Place Hotel, 180 Cooper St., Ottawa. Register at www.abolishnuclearweapons.ca or contact Sarah Bowles, cnanw@web.ca. Registration fee: $50 (includes lunch).
---
WEDNESDAY, OCT. 3
NAC Gala with Diana Ross—This is a unique opportunity to experience living legend Diana Ross performing with the NAC Orchestra at the Annual National Arts Centre Gala, a glamorous fundraising soirée on Oct. 3 for the who's who of Ottawa. The red carpet starts at 6 p.m. with live music, followed by a pre-concert reception with beverages and hors d'oeuvres prepared by NAC executive chef Kenton Leier. The show begins at 7 p.m. Tickets are starting at $229 and available at nac-cna.ca. The soirée benefits NAC arts education programs across the country. 1 Elgin St., Ottawa.
---
THURSDAY, OCT. 11
2018 International Organization of La Francophonie Summit—Leaders of Francophonie member states will convene in Yerevan, Armenia. Canada is a member of La Francophonie. Until Oct. 12.
[caption id="attachment_154427" align="alignleft" width="800"]
Minister Melanie Joly, newly responsible for La Francophonie after the July 18 cabinet shuffle, will oversee Canada's contribution to the 2018 international summit for Francophonie states in Armenia on Oct. 11 and 12. The Hill Times photograph by Andrew Meade[/caption]
---
THURSDAY, OCT. 18
The Fraser Institute Founders' Award—In recognition of its founders, T. Patrick Boyle and Michael A. Walker, the Fraser Institute is honouring Shaun C. Francis, chair and CEO of MEDCAN Health Management Inc., and chair of the True Patriot Love Foundation. Fairmont Royal York in Toronto. For information on sponsorship opportunities or to reserve your place, contact Megan McElwain by calling 416-363-6575 ext. 228 or by emailing megan.mcelwain@fraserinstitute.org. Corporate table (10 tickets): $7,500; standard ticket: $500.
Startup Canada Day on the Hill 2018—This annual entrepreneurship event takes place on Oct. 18. Hundreds of entrepreneurs, companies, innovators, investors, politicians, and government decision-makers are expected to attend from across Canada. 8 a.m.-5 p.m. $95. Shaw Centre, 55 Colonel By Dr. Tickets available via Eventbrite.
---
TUESDAY, OCT. 23Â 
Innovation Symposium—The eighth Innovation Symposium, hosted by the University of Toronto, will take place on Tuesday, Oct. 23, at ONRamp, located in the heart of the Toronto Discovery District. The symposium connects Canadian innovators with post-secondary students, inspiring and encouraging the next generation of innovators.
---
WEDNESDAY, OCT. 24
Manning Innovation Awards—Now entering its 37th year, the Manning Innovation Awards, presented by Scotiabank, recognize and reward the contributions of Canada's most outstanding innovators. This year, the awards are returning to Toronto to introduce and celebrate the 2018 Manning laureates. Events run Oct. 23-24, with an innovation symposium on Oct. 23 at the University of Toronto and the awards reception on Oct. 24 at the Scotiabank Centre.
---
THURSDAY, OCT. 25
CGAI's Annual Defence Procurement Conference—The Canadian Global Affairs Institute is set to host this conference Oct. 25 at the Fairmont Château Laurier hotel, 1 Rideau St., Ottawa. cgai.ca.
Ottawa International Writers Festival—Literary Luncheon with Ian Rankin at Restaurant e18hteen, 18 York St., in Ottawa's ByWard Market, Thursday, Oct. 25 at 12 noon. Or, catch him that night at 8:30 p.m. for In a House of Lies: One on One with Ian Rankin, at the Christ Church Cathedral, 414 Sparks St., Ottawa. Get tickets at writersfestival.org.
[caption id="attachment_154429" align="alignleft" width="800"]
Former governor general David Johnston—pictured with Conservative MP Gérard Deltell—will appear at the Ottawa International Writers Festival to speak about ways Canada's people and institutions can make themselves more trustworthy, and help to build a better country. The Hill Times photograph by Sam Garcia[/caption]
Trust: Twenty Ways to Build a Better Country, with David Johnston—As part of the Ottawa International Writers Festival, David Johnston—reflecting on seven decades of personal experiences including seven years as Canada's governor general—identifies 20 ways Canadians can make themselves, their organizations, and institutions even more worthy of trust, and in doing so build a better Canada for coming generations and the world. Members: free, others: $15-$25. Christ Church Cathedral, 414 Sparks St., Ottawa. 6:30 p.m. Oct. 25. writersfestival.org.
---
FRIDAY, NOV. 2
Vimy Award Gala—The Conference of Defence Associations Institute will host this annual award gala at the Canadian War Museum, 1 Vimy Pl., Ottawa.
---
MONDAY, NOV. 5
P3 2018—The Canadian Council for Public-Private Partnerships will hold its 26th annual conference and celebrate the 21st National Awards for Innovation and Excellence in P3, Nov. 5-6. Conference participants will hear global leaders in the infrastructure and P3 space deliver keynote addresses and sector experts will share their experience and insights on topical P3 issues in sessions throughout the two days. Sheraton Centre Toronto Hotel, 123 Queen St. W., Toronto, Ont. p3-2018.ca.
---
WEDNESDAY, NOV. 7
Canadian Science Policy Conference—The 10th Canadian Science Policy Conference will take place Nov 7-9, Delta Hotel, 101 Lyon St. N., Ottawa. sciencepolicy.ca.
---
MONDAY, NOV. 12
APEC Leaders' Summit—Leaders of the Asia-Pacific Economic Cooperation member states will meet in Port Moresby, Papua New Guinea, for APEC's Economic Leaders' Summit from Nov. 12 to 18. Prime Minister Justin Trudeau is expected to attend.
---
THURSDAY, NOV. 16
Ontario PC Convention—After Leader Doug Ford's resounding provincial election win in June, the Ontario Progressive Conservative Party is holding a policy convention Nov. 16-18. Toronto Congress Centre, 650 Dixon Rd., Etobicoke, Ont. ontariopc.ca/pc_convention_2018.
---
SATURDAY, NOV. 24
Alberta-Manning Networking Conference—On Nov. 24, the Manning Centre will host its second annual Alberta-Manning Networking Conference at Red Deer College in Red Deer, Alta. This will be a one-day conference.
---
FRIDAY, NOV. 30
G20 Leaders' Summit—Argentina will host G20 leaders, including Prime Minister Justin Trudeau, in Buenos Aires. Nov. 30-Dec. 1.
---
[caption id="attachment_154430" align="alignright" width="800"]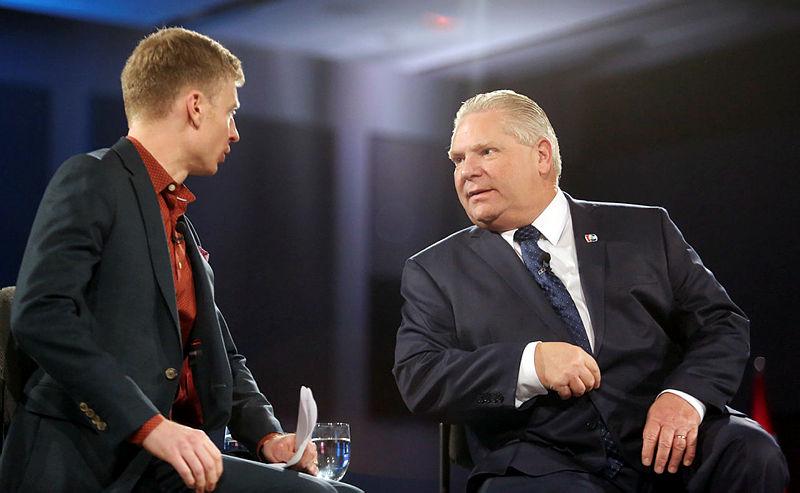 Ontario Premier—then only the PC leader—Doug Ford spoke with Sun Newspapers columnist Anthony Furey during the last Manning Networking Conference in Ottawa on Feb. 10, 2018. The Hill Times photograph by Andrew Meade[/caption]
FRIDAY, MARCH 22, 2019
National Manning Networking Conference—The 11th annual National-MNC will be held from March 22-24 at the Westin Hotel, Ottawa. This yearly gathering of conservatives typically features speakers including MPs, political strategists, and commentators.
---
WEDNESDAY, MAY 29, 2019
Open Government Partnership Global Summit—Canada will host the Open Government Partnership Global Summit in Ottawa from May 29 to 31, 2019.
---
MONDAY, JUNE 3, 2019
Canada to Host Women Deliver Conference—from June 3 to 6, 2019, world leaders, activists, government officials, Parliamentarians, non-governmental organization representatives, and businesspeople will meet in Vancouver and work together to end gender inequality.
---
The Parliamentary Calendar is a free events listing. Send in your political, cultural, diplomatic, or governmental event in a paragraph with all the relevant details under the subject line 'Parliamentary Calendar' to news@hilltimes.com by Wednesday at noon before the Monday paper or by Friday at noon for the Wednesday paper. We can't guarantee inclusion of every event, but we will definitely do our best. Events can be updated daily online too.
The Hill Times