Stories by Caroline Riseboro
G7 leaders gathering in Canada in June should cement a declaration on girls' education and empowerment in crises.
The goals promise to leave no one behind. Yet millions of invisible girls are being bypassed by global progress.
The world's problems will not be resolved at a two-day gathering of like-minded global humanitarian advocates but part of being a responsible member of a global coalition of the willing is participating in difficult conversations.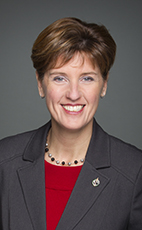 Prime Minister Justin Trudeau's renewed appetite to achieve gender equality and his bold statement that being a feminist shouldn't 'elicit a reaction,' but rather 'a shrug' garnered international praise. Unfortunately, gender equality is not yet an issue we have the privilege to shrug off.
Politics This Morning

Your email has been added. An email has been sent to your address, please click the link inside of it to confirm your subscription.