TORONTO—Over the next number of years, Canada will face a whirlwind of potential shocks from disruptive technological change, a redrawing of the global political economy, the risks of accelerating climate change, and an ongoing aging of our population.
The new world of artificial intelligence and machine learning, the great powers conflict between the U.S. and China, and the emergence of a new Eurasian bloc linking Europe, Russia, India, and China, the danger that climate change may be at a tipping point, and the need for new wealth creation in Canada to deal with an aging society will all impose big tests on Canada's ability to adapt and prosper.
However, we are not prepared to deal with this combination of dramatic events. Instead we have complacency—with many assuming our problems would largely disappear if we built more oil pipelines, cut taxes, and aggressively pursued deregulation. What is not sufficiently recognized is that we are in a different kind of economy, where we need new policies and new ways of seeing the future.
In a recent speech, Bank of Canada Governor Stephen Poloz was typically upbeat on the economy, pointing to what he saw as "many areas of encouraging economic growth" so that the current period of below-potential growth "will prove to be only temporary."
The problem is that the potential growth rate for the next several years is well below past levels so that achieving the potential growth rate—the capacity of the economy to grow without triggering inflation—is not an ambitious exercise. It means settling for low growth. The real challenge is to raise the potential growth rate or speed limit of the economy from less than two per cent a year, the current projection, to the three per cent range we achieved in the past. And for that to happen, we have to raise our productivity growth rate, which is driven largely by innovation.
This is why our innovation or industrial strategy debate is so important. It is the competitiveness challenge. This is about new ideas and new knowledge for new products, new methods of production and distribution, new forms of business organization, new skills—the ability to continuously introduce new goods and adopt and develop new technologies, as a new International Monetary working paper on industrial strategy contends.
But this also means recognizing that the basis for economic growth and productivity has changed—from an economy which depends primarily on investments in tangible assets—machinery and equipment and new factories— to one where the key to growth and competitiveness is based much more on intangibles—things you can't touch—such as intellectual property, research and development, software, skills development, branding and new forms of business organization.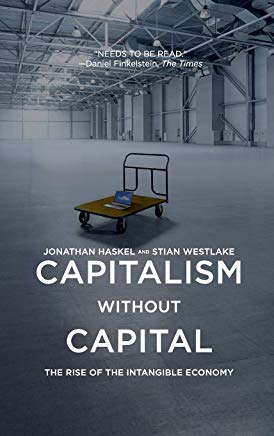 The most influential book on this subject—Capitalism without Capital—by two British experts Jonathan Haskel and Stian Westlake and published last year explains why the policies that worked for an economy largely driven by investment in tangibles will not work for an economy driven largely by investment in intangibles. One example is the need for new ways to finance business growth. In the tangible economy, collateral was available to lenders in the form of buildings and machinery that could be sold if lending was not repaid. But what is the collateral that young businesses based on intangibles can put up where the principal asset is knowledge?
In Canada, Jim Balsillie, the former co-CEO of BlackBerry, has been a leading voice in stressing the importance of an economy based on intangibles and the critical need to ensure that the intellectual property being developed in our universities and commercialized in Canadian tech start-ups and high growth companies is retained under Canadian ownership and used to develop tradable goods and services in Canada.
The ongoing trend to establish foreign-owned R&D branch plants in Canada by companies like Google and Amazon, using Canadian talent to develop intellectual property for ownership and use elsewhere, and to ignore the takeover of smart Canadian tech companies by foreign corporations, Balsillie has argued, will limit Canada's growth potential and the wealth creation we need for a sustainable and prosperous society. We are investing in the future but not capturing the benefits.
Some of these ideas have now been picked in a new report on competitiveness—A New North Star—published by the Public Policy Forum and written by Robert Asselin, a former policy adviser in the Trudeau government, and Sean Speer, a former policy adviser in the Harper government. It picks up on the ideas in capitalism without capital and the advocacy of Balsillie to argue that we need much greater focus on the importance of intangibles, including ownership of intellectual property, if Canada is to succeed in the global economy in the face of great disruptions.
This includes, the two argue, a much different role for government to boost Canadian companies—including denying R&D tax credits to foreign companies with public R&D funds going to Canadian companies that will keep IP and data in Canada, using public procurement to encourage the development and scaling of Canadian tech companies, blocking foreign takeovers in sensitive sectors such as artificial intelligence and reforming competition and intellectual property laws to make them more relevant for an intangibles economy designed to bolster Canadian opportunity and success. While the New North Star report is only a partial recipe for Canadian success—there are some serious gaps—it at least points in the right direction.
Getting policy pointed in the right direction will be an uphill struggle. Conventional, but outdated economic ideas still have a strong grip on policymakers and pundits. I recently attended a symposium where the deputy minister of an important federal government department said policy must avoid picking winners. But if we are to succeed in the face of great disruptions, new thinking and new policies will be critical. We are not there yet.
David Crane can be reached at crane@interlog.com.
The Hill Times